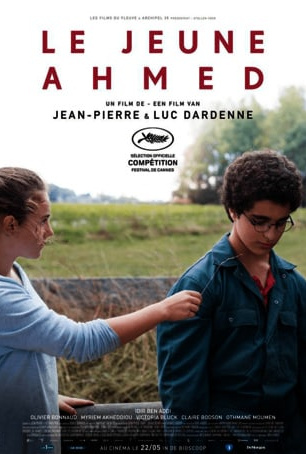 For some viewers, the Dardenne brother's movies don't seem dramatic enough because they are so documentary-like and realistic that they often don't even have any music at all. However, the raw and realistic approach pulls the audience immediately to the characters' world where things are dire and difficult. And this unfortunate experience that the characters go through normally comes from loss, poverty, discrimination, and alienation. Including this one, some of their movies follow young children as main characters. And when that happens, watching their movies give the same anxiety as if we're watching a little kid trying to cross a busy street.
This movie was a bit different compared to their other movies such as <The Kid with a Bike> because the main character Ahmed's religious devotion was undeterred almost the entirety of the movie. From the beginning of the movie, we found Ahmed already deeply into an extremist view of Islam. He was dissatisfied with a teacher at his school because she wanted to start an Arabic class based on secular text. He attempted to kill her with a knife but failed, and then was sent to a juvenile facility. Initially, I thought the movie would be more about how Ahmed becomes less extreme and makes amends with people around him. However, that was not the case at all. Seemingly he's going through changes in the institution but the movie soon revealed that he secretly kept pursuing his murderous plan even by being manipulative when necessary.
As we approach towards the end of the movie, the fact that he's young but still so devoted increased the tension and dramatic effect of the movie. This gets more intensified when we realize that Ahmed's worldview is so narrow and immature; when the girl at the farm kissed him, he soon asked her to become a Muslim because he thought he's now impure and that's the only way his sin would be reduced. On the other hand, including this girl, people around him, especially the people at the institution, are respectful and cordial regardless of his criminal act. Fortunately, the directors did a masterful work here. While contrasting Ahmed's undeterred spirit and social workers' kindness, they did not portrait Ahmed in a judgmental way, which could've happened so easily. Rather, this huge difference makes us try to guess what has happened to him, how he became to develop his current belief, and how he could be saved.
The movie doesn't really tell us much about where Ahmed would end up. Even in the last scene, when he got severely injured and finally confessed apology to his teacher, we are not completely convinced that Ahmed finally earned his redemption or he was still lying; after all, he fell from the building because he tried to get in the building while trying to execute his murderous plan. Plus, the fact that we were able to be less judgmental and more empathetic towards Ahmed was partially due to that his plan has failed multiple times and he didn't get to harm his teacher at the end. Considering the directors' other movies where children were the main characters, I still think the movie sheds light on the disconnect between Ahmed and people around him, and helps us think about what young extremists like Ahmed go through.